Whether it's an original Barbie doll, a mint-condition Star Wars figurine, or an ultra-rare Pokemon card, there are some staples from our childhoods that can pull in the big bucks in 2021. Of course, most of us will have cut the hair, ripped the packaging open, or bent the corners of these toys. However, if you were an ultra tidy child who kept their toys in the best nick, you might have a pot of gold in your parent's attic or old toy chest.
One toy that still manages to cash in, even though its mania of the mid to late 90s is long over, is the classic Beanie Baby. Although originally produced in 1993, the buzz around Beanie Babies came in the second half of the 1990s with children hankering after these bears for their new best friend and adults scooping them up for what they considered a financial investment. Beanie Babies were considered one of the first internet sensations, with collectors selling them on Ebay for ten times what they paid at the height of their popularity. However, like all fads, the Beanie Baby bubble burst almost as fast as had come around.
These days, most Beanie Baby's are worth as much as they were sold for in the toy shops or the cost of a Happy Meal they came in. However, there are still a few characters that can be sold for 4, 5 or even 6 figures, and today at Toy Street, we will be listing the top 10 most valuable Beanie Babies.
What Makes a Beanie Baby Valuable?
There are several elements that make a Beanie Baby valuable. First of all, it's got to be in mint condition. If your bear has any discolouring or a slightly sunken snout, its price could drop dramatically. First generation Babies are always going to be more valuable than any other reproduction. You can find out the generation by looking at the label. Rarity at the time of its original production adds to a Bears value. This could be if it was made for a special occasion or the supply could not keep up with its demand at the time. Sometimes a Baby was produced in a colour or design for a very short amount of time before being altered. The original ones with differing colour/design will always be far more valuable. Mistakes on a bear or its tag will also make it one of the most valuable Beanie Babies.
We will start from least to most valuable. Here are the top 10 most valuable Beanie Babies.
10. Nana the Monkey – $4000 (Appox: £2800)
Nana the Monkey was originally produced in 1995 for a short stint of time before being retired. A similar monkey called Bongo replaced Nana, making her a rare and therefore valuable collector toy. Several imitation Nanas are out there but you'll know yours is genuine by the heart-shaped tag on her ear. Your monkey must have this tag. One with a tag could be sold for up to a few thousand pounds, but without, you'll be lucky to get 20 quid.
Check out our TY monkey here!
9. Peace the Bear – $5000 (Approx: £3500)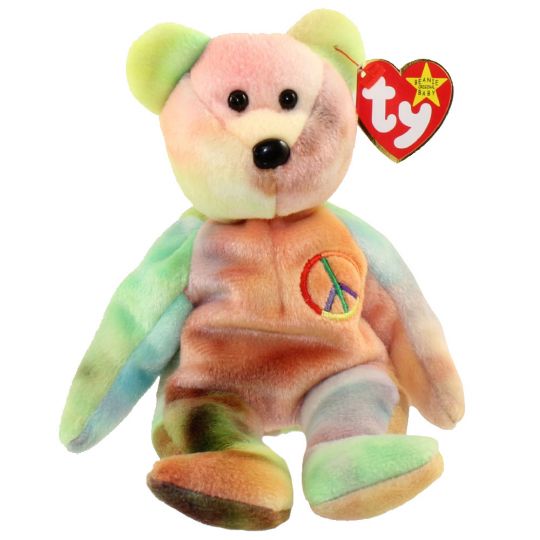 Peace the Bear is a unique Beanie Baby for several reasons. It was the first one to have an embroidered emblem, the peace sign on its chest. Another reason is its tie dye pattern, meaning no two bears looked exactly the same, making them all unique. It also had tag variations throughout its run.
Check out our favourite tie dye TY toy here!
8. Peanut the Elephant – $7000 (Approx: £5000)
Peanut is one of the first 9 original Beanie Babies produced. He was royal blue and even featured a poem on his red heart tag. Only 2000 royal blue Peanut the Elephants were produced before his fur was changed to a baby blue colour, making the royal blue ones a must have for collectors. Peanut is valued at $2000-$7000 with ones in pristine condition racking up the price.
Check out our favourite TY elephant here!
7. Halo the Bear – $7500 (Approx: £5300)
The bear that was created to represent children's guardian angels, Halo the Bear could really grant all your wishes (if you have the right one!) For your Halo to be valued at $7500 she needs to have several mistakes on her person. These include a misspelling of the word 'Gasport' on the label, an ® above the TY logo on the tush tag, and a brown nose.
6. Patti the Platypus – $9000 (Approx: £6300)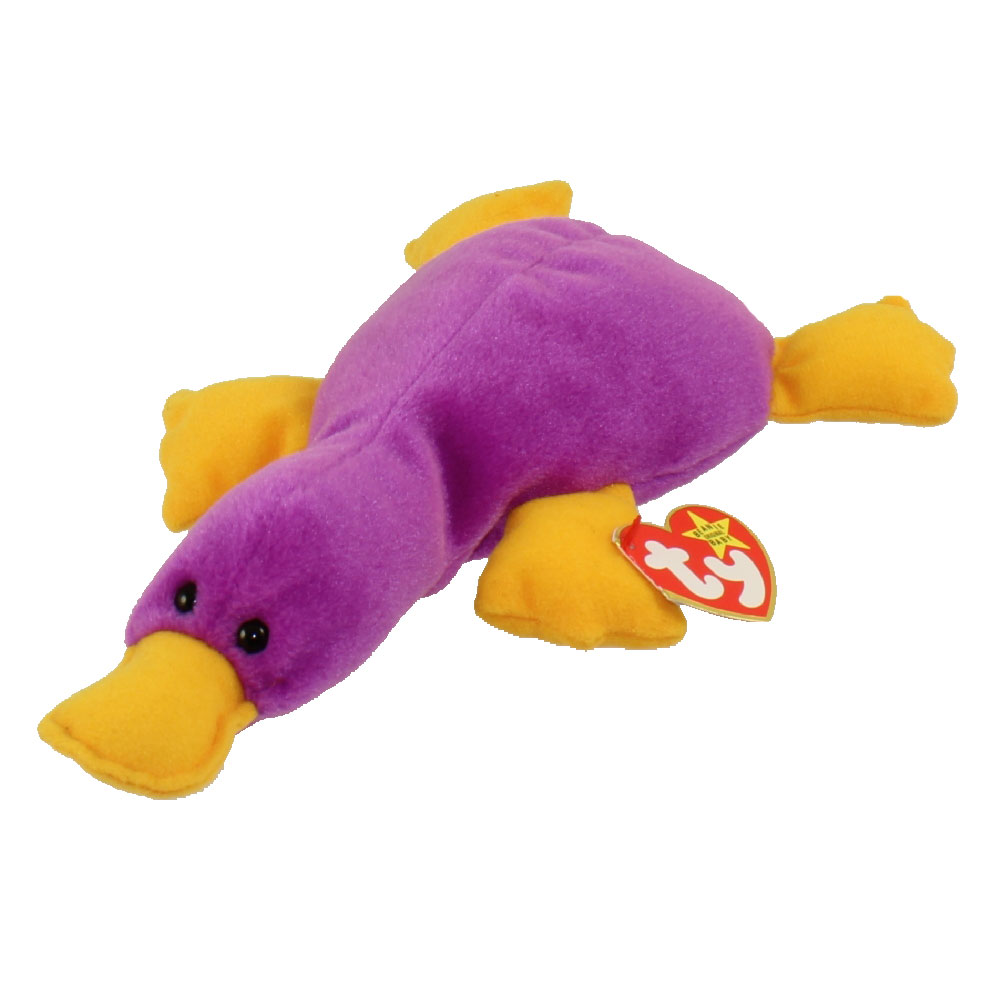 Patti's shelf life ran from 1993-1998. During that time she was produced in 4 different colours, magenta, fuchsia, maroon, and raspberry. She originally came in magenta meaning those babies are the most valuable. To sell Patti for the higher end of her valuation she will need to be in mint condition with tags.
Check out our TY platypus here!
5. Claude the Crab – $9000 (Approx: £6300)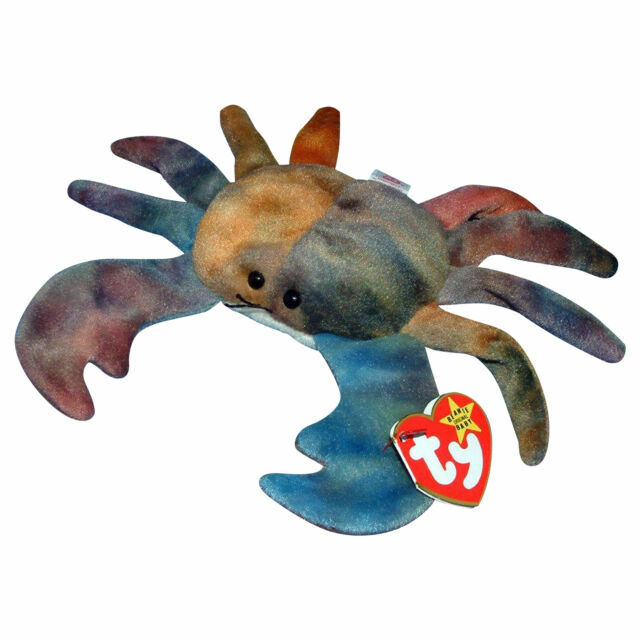 Similarly to Peace the Bear, Clause is tie dyed, meaning every one has a unique splash of colour. What makes this crab so valuable in the world of Beanie Babies is the errors on his tags. A valuable Claude the Crab will have an ® above the ™ on its tush tag, and a space before an exclamation point on the swing tag. A Claude the Crab sold for $7,200 in August 2020.
4. Iggy the Iguana – $10,000 (Approx: £7000)
When Iggy the Iguana was first being produced in 1997 his dye colour got confused with Rainbow the Chameleon, meaning instead of the intended blue colour, Iggy was now rainbow coloured. Iggy hit the shelves and was snapped up by Beanie fanatics before he could be recalled. Iggy had 5 variations over the years, sometimes blue, sometimes multicoloured, sometimes with his tongue lolling out, sometimes with no tongue at all! A first generation Iggy is Tie-dyed, has no tongue, has a hang tag on foot, and can have PVC or PE Pellets. This is the one you want. In pristine condition of course and missing text on the label. Iggy's value is a little hit and miss but can go up to $10000 on occasion.
3.  Brownie the Bear – $20000 (Approx: £14000)
Brownie was produced in 1993 in the first ever collection. However, due to a spelling error on his tag he had to be recalled. When the bear was introduced his name was changed to Cubbie, meaning the original Brownies are now an oddity. Your Brownie should be pristine and not feature a poem inside his tag to be worth a significant amount.
Check out our TY bear here!
2. Valentino the Bear – $20000 (Approx: £14000)
Valentino the Bear is one of the most valuable bear and can sell for a good few thousand usually. However, a Valentino with every error: a brown nose instead of black, white star on the tag instead of yellow, PVC pellets, and multiple typos on the tag sold for $42,300 (around £30000) in 2019. One with misspelt tags can fetch about half of that and one without any errors but in mint condition can go for about $1000/£700.
1. Princess the Bear – $500,000 (Approx: £350,000)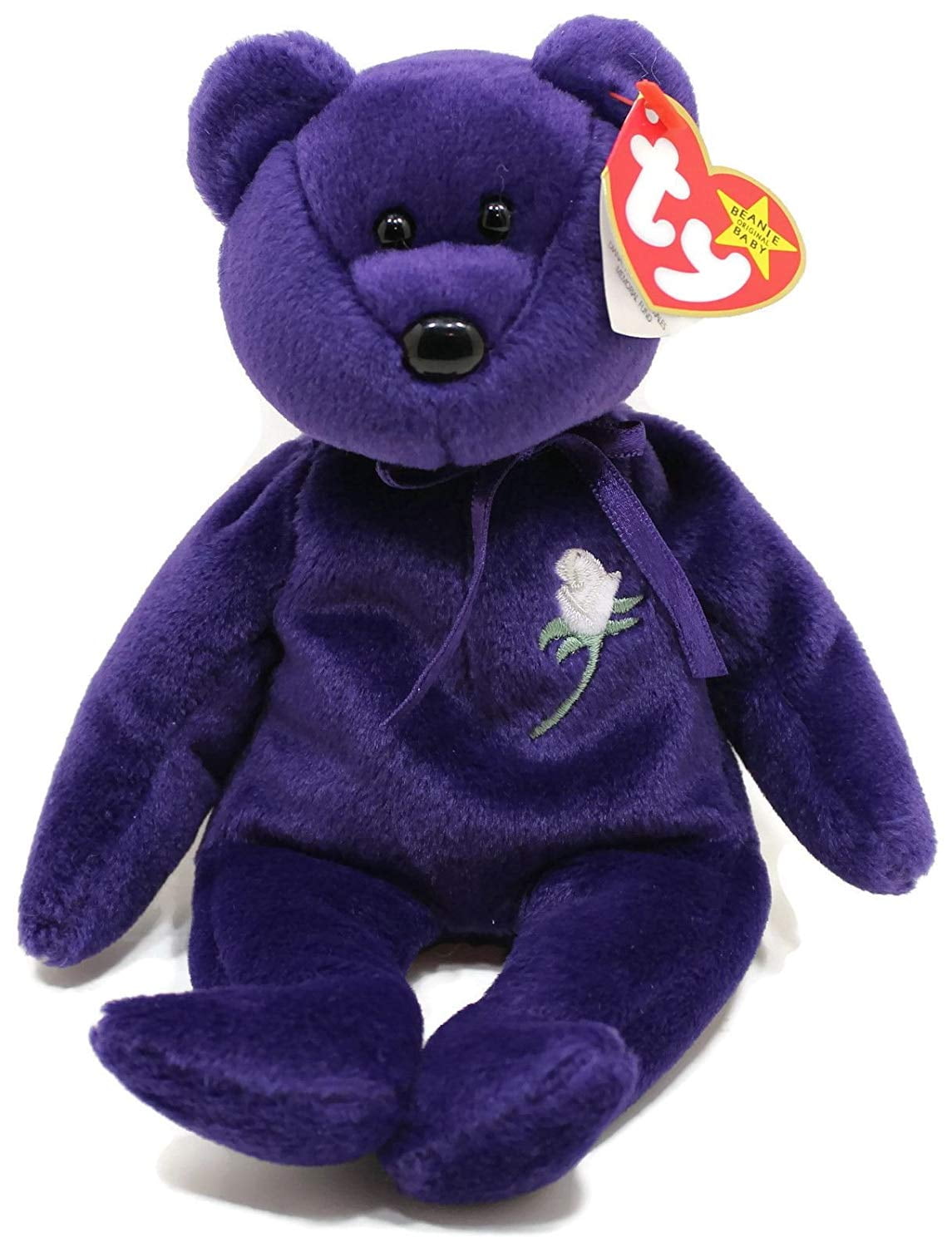 Coming in at number 1 on our list of the top 10 most valuable Beanie Babies is Princess the Bear. She was produced in 1997 to commemorate the tragic passing of Princess Diana and to encourage donations to the princess' memorial fund. It's no wonder this bear ranks the most valuable as it's not only an adorable toy but also an important part of history. Princess the Bear was produced for a short stint making her a rare treasure. For your Princess to be valued at the higher end of the scale she will need to be pristine and stuffed with PVC pellets, not PE pellets. She can fetch around $10000 often, but one is listed on Ebay for $500,000.
Beanie Babies these days have a very different look to their 90s counterparts, however, they are just as adorable and you can check them out here. There have also been many spins of the original baby such as Beanie Boos, Teeny Tys, and the Attic Treasures. Shop the full TY collection at Toy Street here!