Top 5 Outdoor Toys for Kids
At long last, summer is finally on the horizon! As the sun begins to make an appearance and the weather starts to warm up, we thought it would be a good idea to compile a list of some of our best outdoor toys to get everyone out and active this summer after such a long time of being in. Without further ado, here are our top 5 outdoor toys for kids!
Just like a frisbee, but 10 times more high-tech and 100 times more fun! You throw this disc from friend to friend just as you would with a regular frisbee, however, the Disc Jock-E plays your favourite tunes while you're doing it! Simply pair it with any compatible mobile device. You can even increase/decrease the volume, play, or pause right from the disc itself using the chunky, easy-to-push buttons. It's even waterproof!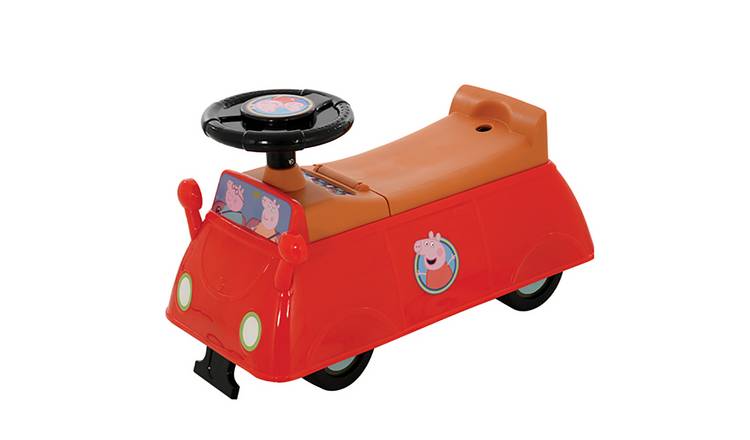 This Peppa Pig ride-on is brilliant for getting the little ones out and about! It's designed to look like the family's iconic red car, with Mummy Pig and Daddy Pig in the front window! This ride-on is perfect for your little one to ride about on their own, as it includes wide wheels for extra stability, an easy-grip steering wheel, and a rear anti-tip feature. It would also be great fun for a big brother or sister to push their younger sibling around on.
These stunning skates will get any older kid zoomin' off this summer. These skates come with a sticker sheet to make every pair an original creation by the user. They can be adjusted to fit the wearer's foot like a Cinderella slipper. Pair with the LOL Surprise Safety Helmet for added safety and zoom around on glittery wheels to your heart's content!
4. Aerobie Orbiter Boomerang
A perfect outdoor toy for kids to have some solo playtime with. Again, this toy is like a frisbee but with a fun twist! Finally, a boomerang that really does come back! This is a fabulous toy for some outdoor fun – and even better, you don't need to have a group to play with! This boomerang could be one of the best outdoor toys for only children in the age of social distancing.
Touchable bubbles are one of the simplest outdoor toys, but also one of the most magical! At only £2.99, you couldn't find a toy with better value for money, providing hours of fun for younger children. Just as fun as regular bubbles but their durability is long-lasting! If undisturbed, the majority of them may remain for several hours, some even for days. As fun as they are to touch and handle with care, they're still very fun to pop!
There you have it! Our list of the top 5 outdoor toys for kids. To see more outdoor toys and games check out our full range here!
Editors note: This blog was originally published on April 30th, 2021. Updated on June 28th, 2022 to improve the information available.